A U-Pick Adventure For the Whole Family
Summer in the Okanagan is beautiful, hot, and full of sun… the perfect place for the freshest, juiciest, and ripest fruits and vegetables you'll ever get to experience. You'll absolutely love how flavourful and delicious our fruits and vegetables are. We leave them alone on the branch, to soak up all that amazing Okanagan sun, and concentrate their sugars. Giving you 100% of the nutrients, flavours, and freshness you just can't find anywhere else. 
"We come here every year all the way from Calgary just for the peaches! They are incredible and the staff is always so helpful! Thankyou for yet another year of healthy clean peaches!"

Christina Sherwin-Ambrock 
With over 20 acres of orchards and gardens, Hillside Orchards is one of the few sustainable farms left in the Okanagan valley. We employ many practices that are required to be a good, self-sustaining organic farm. We believe in growing, and delivering the highest quality of healthy and nutritious food to our family, friends, and community. 
We limit the use of pesticides (many of our fruits and vegetables are pesticide-free), we are entirely NON-GMO, and we treat our farm, our produce, and our animals with nourishment and love. From the compost we use in our topsoil, to our free-range livestock, and our organic feed. 
Our farm is a lifeforce, and like all living things it needs love to grow. 
If you're looking for a fun family adventure, the juiciest peaches, the ripest cherries, the freshest vegetables, and some of the most family fun you've had on a farm in a long time, you need to visit us at Hillside Orchards. 
Our U-Pick is open all summer long with over 30 varieties of the freshest fruits and vegetables. 
Harvest Dates & Produce Ripening
Have a look below for when you can expect our fruits and vegetables to ripen and be ready for picking. It's important to note that the dates below may vary up to 2 weeks (early or late) depending on the season, and the type of growing year we're having.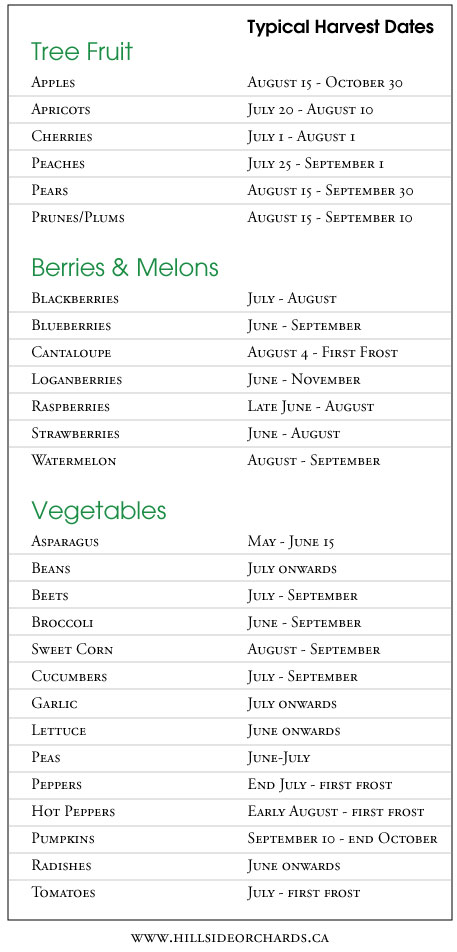 "Thank you, Heidi and Simona and everyone who takes care of this wonderful and friendly place! Last week's visit was our third time at the farm, and the U-pick peaches and tomatoes were the best as usual! We visit Hillside Orchards every time we come to the Okanagan. I wish I lived closer so I could come here more often 🙂 Until next time!"

Vadim Kukushkin