A Sustainable Farm Like No Other…
At Hillside Orchards we take great pride in feeding our family and our community with safe, fresh, healthy, and nutritious – not to mention delicious – farm fresh produce. Being a 4th generation farm, we believe in growing everything naturally. That means we are fully NON-GMO, and while we have chosen not to certify our farm as "organic" we are one of the few self-sustainable farms left in the South Okanagan.
You'll Love Our Fruit
You're going to love how amazing our fruits and vegetables taste. That's because we believe in allowing our fruit to ripen on the tree. So when you bite into a fresh piece of fruit you experience fruit the way it was mean to be eaten. Exceptional flavours, perfectly juicy, and with high natural sugar levels.
Everyone Has A Job To Do
Because we are a self-sustainable farm every animal, and plant has a job to do. In fact, we incorporate many techniques that are integral to a good organic farm. We utilize manure/compost from our produce and livestock to fertilize the soil so our plants grow bigger and healthier. We build organic matter and improve soil through the use of compost, and cover crops. Our livestock and poultry roam throughout our farm, eating grass and weeds, helping to improve the life of every animal, as well as the plants and trees in our farm and orchards.
Our Animals
When it comes to the animals on our farm, we 100% believe in ethical farming. We look at our farm as a life force! It requires love and nourishment to grow. Even our livestock and poultry need gentle loving care. By providing this… our animals are happy and healthy. They even eat organic. Every animal on our farm is fed organic feed from Canadian Organic Feeds in Chilliwack.
Come Visit
If you're looking for a place to visit or buy from who cares as much about your health, and the health of all life on the farm, then come visit Hillside Orchards, you'll sure be glad you did. We are in the middle of the South Okanagan, living in a backdrop of desert, rolling hills, vineyards, and lush orchards.
The perfect place to grow some of the most exceptional food you'll ever experience.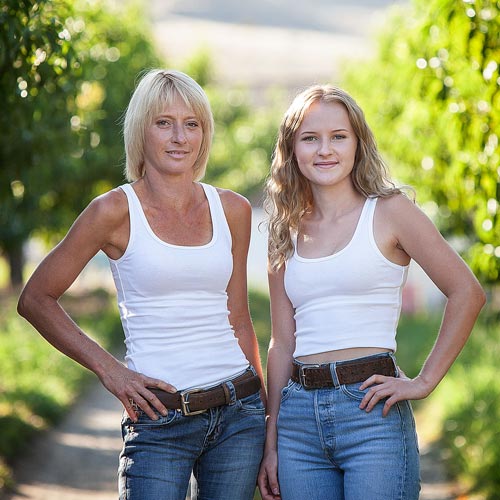 Heide and Autumn are the mother-daughter team who own and manage Hillside Orchards along with their amazing staff, Heide's son, and semi-retired parents.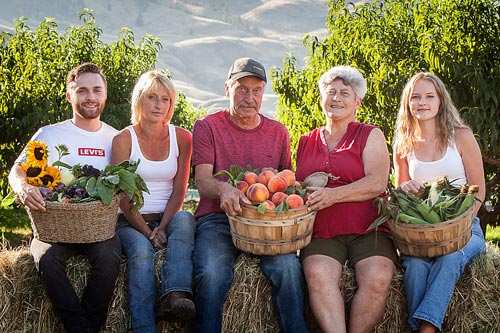 Three generations of the Hillside Orchards family. 
Our Story
The little farm that grew Tabacco and Zucca Melons over 70 years ago is now one of only a few self sustaining U-Pick Orchards and Farms left in the South Okanagan.
1952 Lothar, and Hilda Held set sail from Germany, with their parents Adolf & Margaret Held looking for a new life after the war. Settling in the South Okanagan, Lothar's father was a Horticulturist by trade. They decided to continue farming in Canada, with their little amount of savings and began growing Apples, Apricots, Prunes, Peaches, Cabbage & long English Cucumbers. The long English cucumbers were not a hit in the early days.
It was a funny time 70 years ago. The Okanagan was primarily undeveloped, and actually looked a lot more like pastures and vegetable gardens than the Orchards and Vinyards of today.
Looking to expand their farm, Lothar spent time at the Research Station in Summerland discussing new varieties of stone fruit with Dr. Lapin, including the Lapin Cherry.
As their family grew, so did their farms. Acquiring more land meant more varieties of fruit to grow, eventually ending up with 37 acres of landing which they used to grow and wholesale fruit for all Canadians to enjoy.
Hillside Orchards now sits on the site of the Old Testalinden Creek Militia House, and Testalinden Creek School house. Which were built during the Testlinden Gold Rush at the turn of the century.
In the 1970s as Lothar and Hilda's children took over the farms. Hillside Orchards was born and taken over by Mary and Guenther Held.
In 1997 after a few hard years wholesaling fruit, Heide the daughter of Mary and Guenther moved back to Oliver to help on the familiy. Growing and providing for her family from her garden, she knew there had to be a better way to run the farm. In the following years she turned her families wholesaling business into one of the leading U-Pick Farms in the South Okanagan, expanding from fruit to vegetables, and now eggs, poultry, beef, and pork.
Hillside is now run by Heide with her children & semi retired parents , taking pride in growing, safe, fresh, and pesticide residue free, NON-GMO fruits and vegetables, loved by the local community, and visitors from all over the world.