Hillside Country Glamping
A One-of-a-Kind airbnb Farm Stay Experience
Our Farm is Your Farm
Spend A Night…or 3 On Our Farm

Enjoy the Sunny South Okanagan, with a back drop of desert and rolling hills when you join us for a hands on farm experience.
Walk the orchards, interact with the animals, and pick your own fresh produce during the day, and by night sit by the fire and gaze at the stars
Only minutes from Osoyoos and all your favourite wineries…
We offer a romantic & cozy prospectors tent, with queen size bed, and fresh linens that has been decorated with our country charm.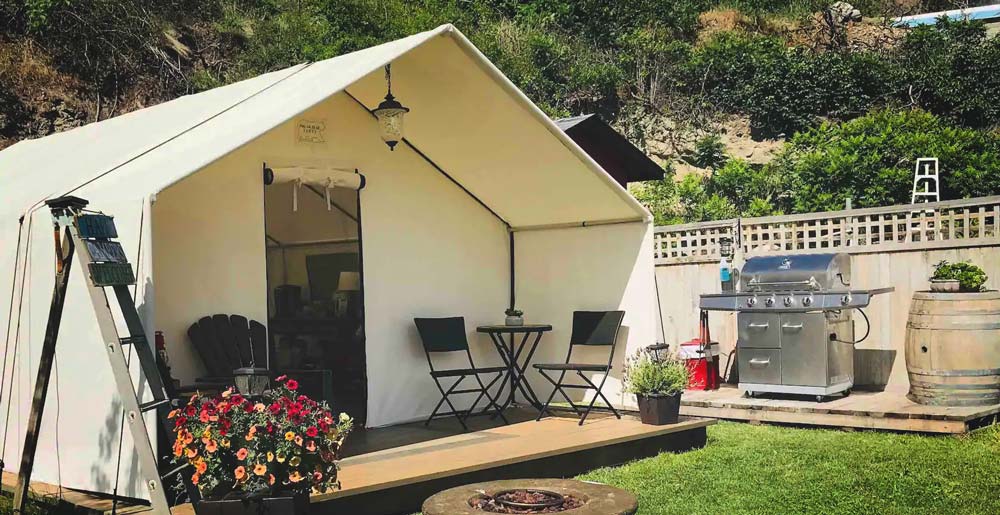 What an amazing destination. This was an adventure we won't forget, sitting by the firepit looking up at the stars was exactly what we were looking for, but then could go back in to a fancy and comfortable tent to rest and recharge.
Would highly recommend this to anyone. Perfect location, 10 min drive down the hwy to Osoyoos downtown and beaches. Fresh eggs and fruits delivered to the tent in the morning and Heide more than accommodates almost anything.
Very sweet and respectful. Huge orchard- can't say enough about this place. Too much to type one has to experience! Take care and will be back!
Heide's property is lovely!
You can feel the love that's gone into her farm, the sense of family all around, and attention to detail in her glamping tents. The tent we slept in was very cozy and comfortable, with all the small touches to get you through your morning (coffee pods, and a basket delivered right to your porch with fresh eggs, bacon and bread).
The bathroom was clean and a close walk from where the tents are situated. If you're a wine lover then this is a great spot for you as there are plenty nearby!
This was probably my best Airbnb experience ever! The tent (if you could call it that. Was more of a beautiful yurt) was so cozy and wonderfully appointed with so many cute little touches. The farm is so tranquil and beautiful. Best of all was Heide's hospitality.
The fire pit was lit when we arrived and Heide was so welcoming and warm. The breakfast in the morning was the icing on the cake! It was phenomenal and all from her farm (and the incredible home made bread from her neighbor).
I couldn't recommend this place, and Heide, more!